Product Description
KOM Wahoo Compatible Bicycle GPS Computer Mount - All Colours
Where a passion – ok, obsession – was fueled for continually improving bike performance by applying all the things we wanted for our own rides. Our founders are KOM segment chasers who balance out those bike shop roots with engineering and product development expertise with innovation always front and center.
Looking for higher performing products. Since the company's launch in 2016, KOM Cycling has grown to be a world class manufacturer of tubeless solutions, mounting hardware, and indoor accessories to help athletes to get after it - inside and outside.
KOM Wahoo Compatible Bicycle GPS Computer Mount - All Colours
KOM are confident that upgrading to a KOM Cycling Wahoo Bike Mount will give you piece of mind knowing you've chosen the best way to securely lock and perfectly position your computer on your bike so you can focus on your goals, whether that be having fun or going fast, or both.
Match You Ride: Lets be honest, our bikes look better when all of the colors are in sync. Add some style to your ride with colour options including KOM's most popular black finish.
Compatible With Wahoo Elemnt Series: Elemnt, Elemnt Mini, Elemnt Bolt, Elemnt Roam
Handlebars: Clamp diameter fits 31.8mm handlebars and includes shims to fit 25.4mm and 22.2mm.
Make Sure it Fits! Check out the Product Fitment chart to make sure this mount will fit your computer!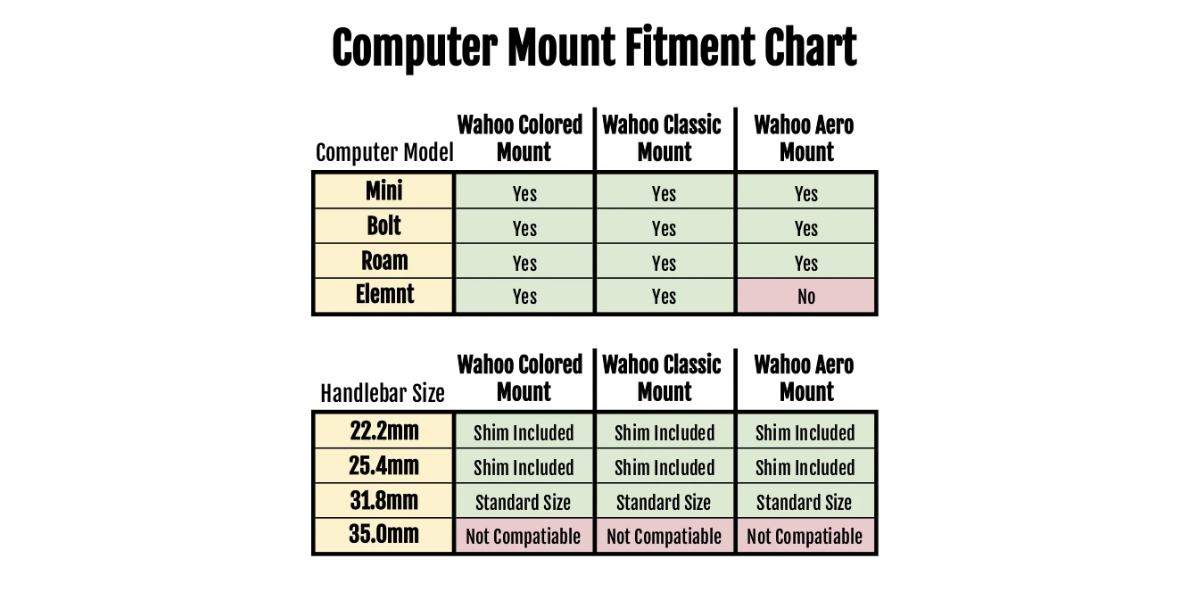 Product Videos
Custom Field
Product Reviews